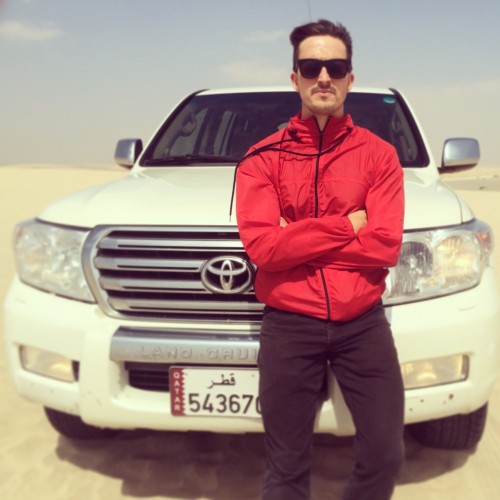 Career Spotlight: Dj Tour Manager & Experiential Marketing – Craig Tiede
Today's Career Spotlight features insights from Dj Tour Manager & Experiential Marketer, Craig Tiede.
When did you realize that you wanted a career in the music industry?
It wasn't from an actual pursuit it was more happenstance due to my involvement in the Chicago music scene. Growing up I played in punk rock bands and used to promote DIY shows at church basements, book stores, VFW Halls, etc. Whatever I could get my hands on to bring a PA in, charge $5-10 a head and pay whatever touring band we had booked from out of town. It was a natural progression to where I started working at the venerable music venue Metro in Chicago during high school and all through college. I started interning on the street team doing hand-to-hand flyer promotion for events and then eventually worked my way up to booking local/regional bills on the nights we the venue didn't have national touring acts. So ultimately, it was just a passion of mine that manifested itself in the most natural way. I never considered it an objective to work in the industry per se, but this track led me to touring because I had developed relationships along the way all the way from doing DIY shows in the suburbs with artists like Plain White T's and Fall Out Boy back in the early 2000's to meeting more established acts coming through Metro on tour.
Eventually Plain White T's got signed to Hollywood Records and were starting a tour cycle for what would break "Hey There Delilah" and we did a show with them at Metro prior to the album dropping and the band asked me to come out to tour manage them. The rest is history. This led me to work with Plain White T's for two full album cycles and then onto other acts like OK Go, Bonobo, A-Trak / Duck Sauce, Solange and Travie McCoy.
How did you work your way up to the position you currently have with as a Tour Manager?
Once on the road it is a matter of learning on the fly and thinking on your feet. Constantly multi-tasking and being a proactive problem solver, especially as a Tour Manager. There is really no quantifiable skill set you can list on a page that ultimately defines the role. It all pertains to the artist, the level of touring, the schedule, etc. But there are inherently universal truths to it for all levels though. It is hard work and I dove in headfirst from the first tour I did with Plain White T's and never looked back. It allowed me many invaluable and priceless experiences I wouldn't have otherwise afforded. I just stayed the course and dug in and did great work.
What does your Experiential Marketing Job entail?
After close to a decade of full-time touring I recently made a move into the experiential marketing sphere developing brand strategy and producing event activations for lifestyle and spirits brands. It is a great leveraging of my skill set from working in artist management and touring. These events are usually still artist-driven, but it's focused more on the overall consumer experience as whole. It is a fun challenge to try and create something from scratch the essentially allows a brand to unlock fun, spontaneous experiences for people.
What is your favorite aspect of your job?
With regards to touring:
The travel. I love to experience new cultures and places. At times it can become a cycle of banality and boringness playing the same cities and venues and only seeing the same few square blocks of the same city, but in time you can see some rather amazing places that most don't have a chance to see. Other aspect is a lot of the friends I've made along the way. It's a very fleeting and mercurial existence to be on the road in this context so you really get to know people in a very forward manner. It's not like a 9 to 5 job where you can go home every night and forget about the people who annoy you at the office and shut it off. On tour you essentially live with everyone and have to forge a family for better or worse. It teaches you how to be more tolerable and accepting at times because there is never any idyllic situation on tour.
Least favorite aspect?
With touring the least favorite aspect was the intense schedule and sometimes brutal travel itineraries that had to be adhered to in order to make shows or tours work. Sometimes you can get very down about never seeing much more than airports, buses, hotels and dirty venues. But you just have to roll with it. The other contentious aspect for me is not being able to see family and friends on a consistent basis. It can severely wear on your psyche after you miss the 10th birthday party or best friend's wedding, etc. It's very hard to find a balance of home and road, and those that do are few and far between. In retrospect, I wish I had taken some more time for family/friends in years past because the road will always be there, but it has made me appreciate time off and better dichotomize my work and personal life.
Is there anything you do for work on a daily basis others might be surprised about?
Accounting. It is imperative to stay up to date with everything from petty cash receipts for taxis to hotel staff etc. If you don't stay on top of it the receipts pile up and the accounting for the tour can get all messed up.
Additionally, a lot of people don't realize for every mere 60-90 minute epic show by Artist X there is at least 6-12 hours of solid work and/or travel to get to and make the gig happen. It's all a relative scale. With bigger bands with production there is a load in, set up, teching, soundchecks, ticket audits, security walk throughs, etc. With DJ's it's a herculean travel day going from one end of the earth to the other (more times than not, despite the popular myth, flying commercial airlines with absurd connections/layovers) to just give me people the soundtrack to the night of their life.
How do you feel working in the music industry differs from other industries?
There are pros and cons. In some ways it is still a "Wild West" approach to business where there is really no industry "standards" per se. You just have to work hard and know your worth and fight for that. You have to make it up as you go sometimes. Same thing with budgeting. Everything is negotiable in music more than any other business. It's all about fostering strong relationships to enable you to keep the ship afloat. Additionally, it's hard because there are no unions to protect a lot of the touring workforce. No insurance usually unless the artists is 'A' level and has those benefits available via their business management. On the converse, it's this open market that allows lots of creative and enterprising people to succeed that wouldn't in other business or industries. It's inspiring to most and can be a proving ground for some to really see their mettle.
Is working in the music industry as cut-throat and challenging as many people make it out to be?
Yes, it is. But it can also be rewarding ten fold if you succeed at what you are trying to do in any facet of the industry. Whether it be touring, producing, managing, writing, etc. You just have commit. It's not for everyone and it can burn you out. But at the end of the day it is supposed to be fun. If you lose sight of that then it is sometimes an indication that you need to take a step back to reevaluate your goals. The big thing is to be honest and don't burn bridges because in reality it is a very small industry. Be kind and gracious to all. Yes, at the end of the day it is business but don't ever take anything personal.
Do you have any advice for those trying to find a career path in the music realm?
Dig and experiment with every facet of the industry. Never be ashamed or too proud to admit you don't know something or want to learn it. You are never too old to start. For me, even when I was out on the road with 101 different things to do each day, I made a point to always try and learning something new from the very talented and inspiring people I worked with. Whether it was merchandise managers showing me how to develop more in-depth accounting spreadsheets in excel, or lighting engineers teaching me how to run a simple lighting design for an artist in an emergency or to an audio engineer teaching me how to listen to certain frequencies in order to know whether the PA was tuned well or not. It's little nerdy things, but at the end of the day it's those things that can still drive you to inspire you to try new things and continue learning. In short, find a mentor or multiple. Never be afraid to ask to meet someone for coffee to simply ask their story and insight into how they achieved what they have and what their further goals are. You will be surprised how many successful people are entirely accessible if you ask in the right manner because they too would relish in the opportunity to help someone achieve what they have. When I was touring I was fortunate to have a few mentors that helped guide me along the way and I will never forget that invaluable support.
Wow-Amazing interview/insight!  A big thank you to Craig for taking the time to share his EDMJob with us in this Career Spotlight. If you're interested to work in the Electronic Music industry be sure to check all open positions at EDMJobs.