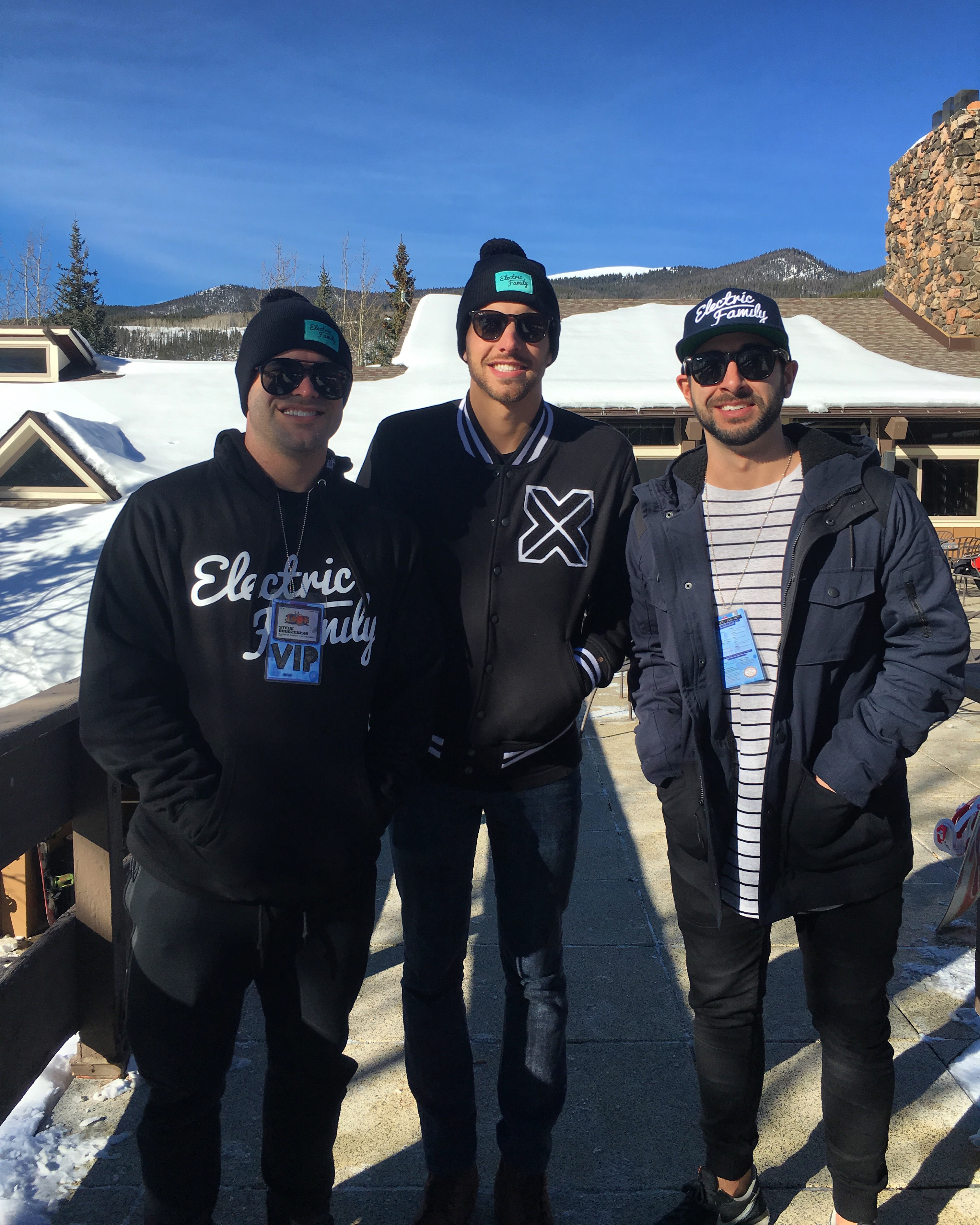 Company Spotlight: Electric Family
In today's world we have so many companies that just sell their product to make the money and that's all. This week I decided to go a different route and interview Steve Brudzewski, Co-Founder and COO of Electric family. Electric Family was founded by Steve, Drew Nilon, and Matt Dronkers. They have been selling clothes and bracelets since 2012. These guys have worked with many different artists to establish a new type of business. The business of giving. They work with these artists to sell bracelets, and also give back to the community, by donating a portion of their sales to charities of the artists choosing. This week I wanted to give thanks to Electric Family for all the good they have done in the EDM community and the world as a whole. Please head to their site for all of their new exclusive Black Friday Sale swag. If you are looking for work in the industry, be sure to check out all open positions here.
Who are you and what is your background?
Steve Brudzewski, I have a background in biological sciences from Bowling Green State University in Ohio.
When did you realize that you wanted a career in the music industry?
All of us at Electric Family had a passion to work with musicians and make a positive impact globally.
Can you tell me how you started Electric Family?
Four years ago in Miami, we (My partners Drew Nilon & Matt Dronkers) had a conversation about what we could do to make a positive impact globally and communicate our message via accessories/apparel in the music scene. When we came home from that trip, the conversation was still going on weeks later and Electric Family was born.
You guys started selling bracelets with artist backed promotion, all while giving back to the community. Can you tell us some success stories from the charity donations?
One of the many success stories that really stands out to me is with the Krewella bracelet. The proceeds benefit the Dance For Paralysis foundation, and they work hard to help people who are suffering from paralysis with the ultimate goal being to get them back on their feet. Yasmine and Jahan from Krewella showed up to a young man's doorstep in Boston, MA one morning. The person whom they surprised was someone who was a hard working teenager who was accidentally hit with a bullet which ricocheted and hit him in the spine paralyzing him. He could not get enough time on the community equipment to give him any real fighting chance of recovery. After finding out about this person, Jahan and Yasmine decided to buy him this $15,000.00 piece of equipment in order to give him the medical treatment he needed to help pursue him goals of walking again. It was such an awesome gesture that still to this day we talk about often.
You guys have worked with numerous artists on the bracelet charity product. Who was your first artist that you worked with and how did you reach out to them about the idea?
Adventure Club was the first artist who took a chance on our idea and it is one of our most successful collaborations to this day. They were playing at a venue in Scottsdale, AZ where we had some friends who ran the venue. We setup a time to discuss the idea when they were in town, and they really embraced the idea and wanted to be apart of the movement.
You guys are about to release a very robust Black Friday offering. Can you tell us a little about the designs and how you came up with these products?
Black Friday is always a very special day for us. We like to offer our fans custom pieces that they cannot receive any other day of the year. It is very important that we push the boundaries on what is typically expected from the Electric Family brand. It acts as a guide for the future of the products we are planning to create. Most importantly, it gives us a chance to reward our loyal customers with deeply discounted deals on high quality products.
As mentioned above, we like to focus on high quality pieces along with products that are great for gifting. Every year there is usually some type of theme with our offering. Last year we made a bunch of products that were all black and diamond blue. This year we have color themes for different product classes.
You guys have been around since 2012, selling your products at festivals/shows and online. Have you noticed an increase or decrease in sales online vs face to face sales?
To be honest….there has been an increase in both avenues as we feel more and more people want to support and the brand continues to grow.
Have you ever thought about throwing a charity auction/show?
Of course! It is much easier said than done…but if the right partners or opportunity presents itself we would never turn down a great opportunity.
What are your favorite aspects of your job?
Hands down the best part about our job is giving back. Being able to work with almost 60 artists and over 50 different charities has been extremely fulfilling. I also like it when artists we work with stop by our office when they have down time in LA. It's nice to see them take an interest in what we do and meet our entire team.
What is your least favorite aspect?
My least favorite aspect is not being able to physically go and support all of our artists all the time at shows. If I had it my way I would see twice as many shows as I do now and engage the artists we work with a lot more.
Is there anything you do for work on a daily basis others might be surprised about?
We have a custom bracelet side of our business that we work on daily. We work with any person, or any other brand that wants to make really cool bracelets with their own logos on it. We have done bracelets for some very prominent brands such as Bud Light, and a couple of NBA teams. We have also worked with one of the largest online gaming organizations called Syndicate. If someone is interested in getting custom bracelets done please inquire via email to austin@electricfamily.com
If you could change one part about the work you do, what would it be?
I wish I could spend more time on the road working at festivals meeting more people and spreading the word about our movement. We only pick a few select events to work at each year but we will continue to do as many as we can when it makes sense.
Do you have any advice for those trying to find a career path in the music realm?
If you have a desire and a passion and want to do something…DO IT! There are so many people out there that see the glass half empty and live life making every move to be safe, or to please someone else. Follow your dreams, network with everyone you can in the industry you want to work in, and don't be afraid to ask for an internship. People are always looking for good help and an internship is always a great way to get your foot in the door which could end up with a full time job. Lastly, if there is something you want to do but it doesn't exist… don't be afraid to start your own company and follow your heart.
Is there anything else you would like to add? Tips, thoughts, feelings, songs, promotions, etc?
I would just say whatever you do just make sure you do it for the right reasons. Be true to yourself always and you will go to sleep every night knowing that you are moving forward in the right direction every single day.
Stay tuned to the @ElectricFamily Twitter feed, and show some love for the cause by tossing them a "Like" on their Facebook page. Check out Electric Family's new Black Friday Sale this Thanksgiving Day at 7pm. Of course, for all the info, bracelets, and apparel – including the sweet beanie, drawstring backpack, and longsleeve shirt featured above – check out their site: https://www.electricfamily.com/blogs/news/black-friday-limited-edition-release
A big thank you to Steve, Matt and Drew for all of their hard work and dedication by donating their time and money to the community. A big thank you to Steve for taking the time to share his EDMJob with us in this Company Spotlight. If you are interested in a job in the industry, check out EDMJobs.com and follow us on Facebook!