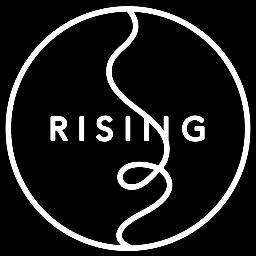 Career Spotlight: Malea Lazzara, Artist Management & Label Coordinator
This weeks chapter of Career Spotlight, we're featuring insights from Rising Music's Artist Management & Label Coordinator, Malea Lazzara.
When did you realize that you wanted a job in the music industry?
High School. I wanted to work at a record label before I was exactly sure what that entailed. I visited many colleges that offered music industry majors and seriously considered pursuing a degree in recording arts. I ended up with a B. A. in international politics, but my first job after graduating was an internship in the music industry.
How did you work your way up to the position you currently have with Rising Music?
I spent two years at a start up artist management company. I took advantage of the opportunity to learn the ins and outs of the business gaining experience in artist management and tour management. I networked and researched, reading books, blogs, and news. Some friends introduced me to Owen Ingram from Toolroom Records. He became an influential mentor to me and encouraged and believed in my ideas and passion to succeed in the industry. Owen was consulting as label manager with Rising Music. When he invited me to the studio to meet his team I was excited but had no expectations about meeting Chris Lake or interviewing. Everyone at Rising was very talented and friendly and I left feeling super jazzed. The next day I got the call that they had a position for me doing artist management. I took advantage of the opportunity to work with their incredible team and worked hard everyday to try and exceed their expectations.
My hard work and commitment didn't go unnoticed and they gave me more roles and responsibilities within the company. Working with this team of genuine, talented people at Rising has truly been a wonderful experience.
What is your position at Rising Music and what does it entail?
My position at Rising Music as "Artist Management and Label Coordinator" entails fully managing Rising Artist Nom De Strip and handling the day to day management for Chris Lake. In an average day, I spend my time directing and overseeing everything regarding the artists. This includes record release plans and PR roll outs, tour routing and advancing, branding and creative direction, studio scheduling and listening sessions, and the list goes on….. As for the label side, my inbox is filled with demos everyday and believe it or not, I listen to them all.
What is your favorite aspect of being an "Artist Management and Label Coordinator"?
My favorite part of the job is listening in on studio sessions and being a part of the creative process with the artist. The Rising family of artists includes Chris Lake, Nom De Strip, TJR, Hot Mouth, Peo de Pitte, and Cobra Effect, all extremely talented and inspiring producers. All of the artist's studios are in the same complex as the office so it's a really collaborative and creative work environment.
Least favorite aspect?
Having to go to shows and festivals. I'm Kidding!! That's really another great aspect of working in the music industry. It's great to travel to the shows of the artist I work with as well as other artists that have become friends. I don't really have a least favorite aspect. I love my job!
Is there anything you do for work on a daily basis others might be surprised about?
Hand written thank you notes. I have a stack of stationary at my desk and I take the time to show my appreciation to my colleagues and the people we work with. It only takes a few extra minutes a day but the response is always well worth it.
How do you feel working in the music industry differs from other industries?
There's no clocking out. It's 24.7 and your job and your life become one in the same. It's a Monday thru Friday office job, but when you lock up the office at the end of the day, it's usually not to go home. Nightclubs and music venues become a place of work.
Is working in the music industry as cut-throat and challenging as many people make it out to be?
To survive in this industry you need to be on top of your sh*t and work hard for what you believe in. I don't think that it's any more cut-throat than other industries. If you want to make it to the top, no matter what your line of work, you're going to have to work your booty off.
Do you have any advice for those trying to find a career path in the music realm?
Work hard and be nice to people. Take full advantage of every opportunity you get. Go above and beyond in your internships and entry-level jobs and really prove that you are NOT replaceable. Find things that you see aren't getting done and do them. If you put your full focus into making your music industry career happen, it won't go unnoticed. Again, be nice to everyone… that's HUGE.
Bonus: What is something that you are currently obsessed with?
I'm really digging this new producer called Cages. His identity is anonymous and the music hasn't been released yet, but I was lucky to preview a few of the records and they're fire! Watch out for Cages in 2015.
—
A big thank you to Malea for taking the time to share her EDMJob with us in this Career Spotlight.  Learn more about Rising Music at risingmusic.co.uk. If you're interested in becoming a Artist Manager or Label Coordinator, be sure to check all open positions at EDMJobs.