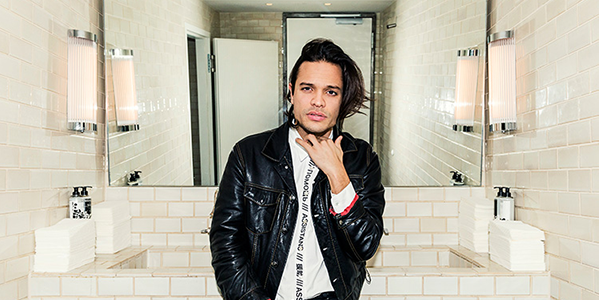 Career Spotlight: Dj/Producer ARGY (Cadenza)
Argy is a DJ/Producer who has released music consistently for years. For years his music has been played by DJ's around the works and releasing on labels like Jerome Sydenham's Ibadan, Deeply Rooted House and Cocoon, and released a full album in collaboration with a top vocalist, Mama. This is EDMJobs' next installment of "Career Spotlight".
Where were you born?
I was born in Greece, on an island called Rhodes. Then I moved to London when I was 18 and since then I have been back and forth between Berlin and London and summers in Ibiza.
At what point in your career as a Artists, did you realize that you were "All In"?
Actually I never really realized that. Sometimes you feel really confident and sometimes a little bit unsure when it all gets too much and its that feeling of unsureness that makes you do other beautiful things, experience other things in life for a week and then run back to your biggest passion, which for me is music obviously.
I think this frustrating process is a sign of intellect. I don't like people who are married to their identity. Jeff Mills is a good example of eclecticism. Thats a class act.
What time of music did you listen to growing up?
I grew up with early 90s MTV music, a lot of Neo-Soul, then got into House music and slowly into more experimental territories.
But before i fall in love with electronic music i fell in love with good sounding songs.
What is your ideal set length, and what's the longest set you've played?
I am not a big fan of very long sets. I see the trend now but sometimes it has to do with the DJ's ego and not a lot of artists can do it with integrity How interesting you think you can be for 12 hours? I think between 2 to 4 hours is enough to express yourself based on today's standards of music appreciation. Songs are not 16min anymore and the audience's attention span is much shorter because everything is faster.
What's the best sound system you've ever heard?
I am quite into the small room at Zouk Club in Singapore. I remember it had a wonderful and warm vintage sound. Loud but clear and kind of wooden.
Can you describe how your style music sounds?
I think my sound tends to be retro futuristic, covering 3 decades of electronic club music.
A lot of NY elements and cunty moments as they would say here in the big apple. I think my sets are quite romantic with the nostalgic sense and have an open air feeling to them with a lot of energy. I am not the right person for slow trippy sets. I could do great gym mix tapes I can't really describe more as its hard to talk about myself. My mixing style is more techno and my groove somewhere between house and techno.
What's the most memorable set you've heard in the last few months?
I love Derrick May on the decks, always..Just even to watch him is major.
Also Sven Vath played a beautiful set at Watergate last time, one of those long sets that made perfect sense.
If you could go to space and return, how long would you stay for, who
would you bring, and where would you go?
Based on the last Virgin Altantic Space accident i rather stay here on earth to be honest. I was never really a space freak as i was not a teenager in the 80s. I am more of a beach boy.
A Big Thank You to Argy for taking the time to connect with us for this installment of Career Spotlight (via F.Y.I.).  Come listen to the Argy for On&On at the Loft in  Public Works this Saturday, April 25, 2015. Discount Pre-sales Here. If you're interested to work in the Electronic Music industry be sure to check all open positions at EDMJobs, and follow us on Facebook!